Homemade Hot Pepper Sauce

     Many recipes exist that let you know how to make homemade hot pepper sauce, as well as information on bottling hot sauce and hot sauce labels. Most of the methods are quite simple and the ingredients consist of commonly found items, allowing anyone who's willing to try the opportunity to bottle up their own or borrowed recipes.
Bottling
     Bottling homemade hot sauce is a relatively easy process, that, when done right, preserves your unopened hot sauce for six to nine months. The first thing you must do when bottling hot sauce is sterilize the containers, though not the tops or fitments, by boiling them in a covered pot for five minutes. At the end of the five minutes, turn off the heat and use tongs to remove the bottles and place them upside down so that all of the water drains from the inside.
While the bottle is still hot, place a dry towel around it to avoid getting burned and using, a funnel, pour in your cooked hot sauce. Once the bottle is full, put the fitment in first and then tightly screw on the cap, unless you are using tamper proof seals, which you can shrink with a hairdryer, as these need to go on before the cap. Finally, place the bottle upside down for five minutes so that the heat from the sauce can sanitize the lid.
     Depending upon the ingredients in your hot sauce, the bottles may need to be refrigerated so that the sauce does not spoil. It is best to refrigerate the sauce for at least one week prior to using so that it can age a little; hot sauce is like wine in that it gets better with age, though it cannot be aged as long or you may end up with food poisoning.
Labeling
     Since you went through all the trouble of bottling your homemade hot pepper sauce, odds are you are going to want to sell it, or at the very least, label it. Many label companies do exist that are willing to make just a few labels for your at home batches or hundreds of customized labels so that you can advertise your brand. If you have artistic talent, you may decide to draw up your own design and then have a company turn it into a label. Photographs, digital graphics, and fun fonts are all options when creating your labels, which should meet FDA regulations for food contact and be able to tolerate high temperatures.
Recipes
Hot Wing Sauce
     The following homemade hot pepper sauce recipes can all be bottled and may be a good starting point if you are new to sauce making or still experimenting with flavors. One of the most popular sauces is hot wing sauce and should be a must for someone who is bottling and labeling their sauce for sale. Hot wing sauce is simple to make and involves only a few basic ingredients, which are:
a stick of butter
4 tablespoons of brown sugar
5 tablespoons of tomato sauce
a dash of hot sauce
a quarter teaspoon of garlic, onion powder, white pepper, chili powder, and salt
a teaspoon of oregano
a dash of beer
Begin this recipe by melting the butter with the brown sugar over a medium flame and then add the tomato and hot sauce. Next, add all of the remaining items and stir over low heat until the ingredients are thoroughly mixed. Bottle or serve as desired.
Avocado Hot Sauce Recipe
     Another great homemade hot pepper sauce recipe is that which directs you on how to make avocado hot sauce. The ingredients for this concoction include:
A tablespoon of red wine vinegar
4 tablespoons of olive oil
1/2 teaspoon red pepper flakes
Salt
1 medium tomato, peeled and chopped
1 small onion, finely chopped
1 large avocado, peeled and finely diced
1 red or green bell pepper, finely chopped
Start by whisking the vinegar, oil, pepper flakes, and salt with a fork in a medium bowl. Add the remaining ingredients and toss to mix. Serve as a side or on top of empanadas or grilled meats.
Chipotle Hot Sauce Recipe
     To make chipotle hot sauce only a tablespoon of honey and a tablespoon of chipotle pepper puree, a cup of red wine vinegar, half a teaspoon of salt, and two tablespoons of Dijon mustard is required. Simply combine all of the ingredients in a small bowl, whisk together, and serve this homemade hot pepper sauce on anything you please.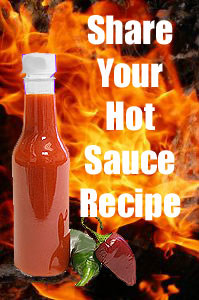 Return from Homemade Hot Pepper Sauce to Home 
More About Homemade Hot Pepper Sauce