Mango Salsa Recipe
     Nothing goes together better than sweet and spicy, which is exactly what a mango salsa recipe offers. This easy-to-make flavor combination is great over fish, on top of teriyaki burgers, or can be served as a fancy dip to wow your guests. If you get really good at making the recipe, adding your own personal touches, you can put the salsa in a jar or can and sell it.
A Little Bit of Time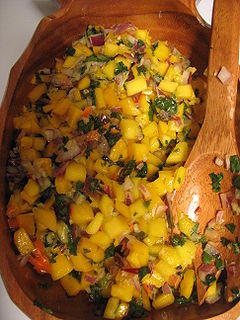 Most mango salsa recipe are quick to make and ready to enjoy instantaneously but this one takes about 45 minutes to settle before it can be served. To start, you need:
A chopped, peeled, and pitted mango
A chopped green onion
A finely chopped jalapeno
1/4 cup of finely diced red bell pepper
2 tablespoons of shredded cilantro
1 tablespoon of lemon juice
2 tablespoons of lime juice
     Next, mix all of the ingredients together in a medium bowl, cover, and let it sit for a minimum of 30 minutes before consuming. Once the flavors have developed, this low calorie, no fat salsa can be served to up to eight of your guests, though you may double or cut the recipe depending on how much you need.
Spicy!
     This next mango salsa recipe requires the use of a whole jalapeno pepper, which means leaving the seeds, which are the hottest part of the vegetable, in the mixture. Aside from this minced jalapeno, stem removed, this recipe also calls for a peeled, pitted, and diced ripe mango, half of a finely chopped medium red onion, and a small cucumber, peeled and diced. In addition, you are required to have three tablespoons each of fresh, chopped cilantro and fresh lime juice as well as some salt and pepper for seasoning. Optional ingredients for this recipe are diced red peppers, which can replace the jalapenos if you don't want the spice, and jicama, if you prefer a little more sweetness.
     After chopping, peeling, and dicing all of the ingredients, simply combine them in a bowl, mix, and enjoy on roast duck, barbecue dishes, or as a standalone dish. If you find the salsa to be overwhelming, dice up some avocado and add that to the mix.
Eye Candy
     When done right, a mango salsa recipe is very appealing to the eye because of the vibrant and contrasting colors used in the dish. This particular recipe adds the use of a tomato, providing additional taste and color to the salsa, making it picturesque. It is important to use the best tomato and mango in this recipe since anything else is sure to discount the flavor and color. Besides the large, diced mango and Roma tomato, this recipe calls for:
1 tablespoon of finely chopped cilantro
A dash of sea salt
1 teaspoon of fresh lime juice
1 tablespoon of thinly sliced green onions
     What makes this recipe so different from the others is that, aside from being more colorful, it is not at all spicy because it does not require the use of a single pepper, though you can always add a chopped chile if you so desire. You may also elect to use more lime juice if you prefer sour tasting foods. By the same token, for those who like more cilantro, add as much as you want.
     After preparing your ingredients, simply combine them all and mix gently before serving. If you are not going to consume this prepared mango salsa recipe right away be sure to cover it and store it in the refrigerator, where it can last for about three to four days.
From Mango Salsa Recipe to Salsa Recipes
From Mango Salsa Recipe to Homepage