Jim Beam Hot Sauce
     As a distinctive hot sauce incorporating the smooth bite of aged bourbon, Jim Beam hot sauce adds a flavorful kick to meats, vegetable dishes and dips. Some really tasty heat is generated in this sauce, which also features bits of red and green bell peppers, along with the extra fiery kick of spicy chili peppers.
     Known as the most popular bourbon all over the world, Jim Beam bourbon whiskey and its distilleries were established around 1800 by the Beam family, who still own and operate the company. Prohibition temporarily ceased production of the whiskey but it was later restarted in 1933 by Colonel James B. Beam. According to business press releases, Jim Beam bourbon is still produced in pretty much the same way it was made two centuries ago.
     In addition to Jim Beam hot sauce, the company also makes Jim Beam BBQ beef jerky and Jim Beam jalapeño sunflower seeds.
Jim Beam Pepper Sauce Recipes
     With so many tantalizing recipes using Jim Beam's hot sauce available, it is hard to pick just one or two to suggest for the next dinner you serve to your family. But here are some of the more popular foods using Jim Beam hot sauce to boost the flavor level past the point of no return:
Heavenly Hot Wings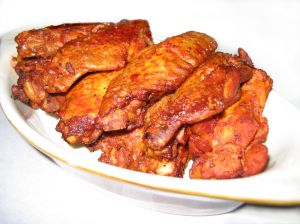 Three pounds of chicken wings
one cup of Jim Beam hot sauce
1/2 cup melted butter
one tablespoon paprika
     Because you bake these chicken wings instead of fry them, the fat content is low and healthy enough to allow you to indulge without feeling guilty. Cover the wings with a mixture of the sauce, butter and paprika and bake for approximately 45 minutes at 350-375 degrees. One option is to serve the wings with bleu cheese dressing if desired, since this may take a little of the fiery tang out of each bite, but remember not to skimp on the napkins!
Baked Beans Using Jim Beam Hot Sauce
     This dish will be the hit of any outdoor barbeque party or potluck supper. Everyone will be wanting to know who made the great-tasting beans that were so hot they could have been considered hazardous. You will need:
one pound of dry navy beans
1 1/2 cup of any hot sauce by Jim Beam
1 1/3 cups of chopped onion
1 1/2 quarts of water
6 cloves of minced garlic
one tablespoon of vegetable bouillon granules
1/4 cup of packed brown sugar
three tablespoons of vinegar
1/2 teaspoon of cinnamon
Jim Beam Bourbon Hot Sauce Recipe
     You might also want to make your own version of Jim Beam's hot sauce by experimenting with this basic recipe for creating the sauce from scratch:
6 cups of crushed tomatoes
1/2 cup Jim Beam Bourbon Whiskey
1/2 cup tomato paste
1/3 cup white vinegar
1/3 cup brown sugar
1/4 cup molasses
One medium white onion, minced
One large clove garlic, minced
2 tablespoons lemon juice
2 tablespoons Worcestershire sauce
1tablespoon mild chili powder
1 tablespoon paprika
2 teaspoons of red Tabasco sauce
2 teaspoons ground white pepper
1 1/2 teaspoons celery salt
1 teaspoon dry mustard powder
1/2 teaspoon ground black pepper
1/4 teaspoon cayenne pepper
     Put all these ingredients into a large saucepan and bring them to a boil. Then reduce heat until it is simmering, leaving it uncovered so it can thicken. When the sauce is thick enough to start spattering out of the pot, you'll know it's done and ready to emblazon meats and vegetable dishes with its own brand of fiery flavor.
     If a friend mentions how much they love your wings or baked beans made with Jim Beam hot sauce, you can also give them a Jim Beam gift box  which contains Jim Beam BBQ sauce, hot sauce, wing sauce and a handy recipe booklet.
From Jim Beam Hot Sauce To Home
---